Testimonials from musicians playing DeVine Guitars and Ukuleles
Tyler Gilman
Buyer: Ukulele Puapua
Na Hoku Hanohano Award Nominee
I have been working in the ukulele industry for over ten years, and playing for most of my life. I have played just about every ukulele on the market, and can say with confidence that DeVine guitars and ukuleles are of the finest quality and construction. Only the best materials are used, and only one set of hands touch each instrument. This quality control and attention to detail result in stringed instruments that inspire and delight the senses. I hope that you will have the opportunity to experience one of Eric's creations for yourself. They are truly magnificent.
Doug Mcleod
"I have a parlour guitar that Eric made with a redwood top, rosewood back and sides and a Spanish cedar neck with snakewood for the fingerboard. Man oh man, this is such a great guitar! It has an incredibly rich voice, all kinds of complexity in the mid-highs and a balance between the bass and treble ranges that I rarely find in an acoustic. If that's not enough, this thing throws like a megaphone! Almost always the first comments I get when playing are how surprisingly loud it is considering the smaller body, and I really like how comfortably it fits me with that unique body shape and the 12th fret neck join. It is a joy to record and a beauty to behold - total winner! Thanks Eric!"
Al Petteway
Brazilian Rosewood Parlor
"I love this little gem. It's sweet and strong with just the right amount of punch. One of the best parlors I've ever played."
Dave Fiely
The Slackkey Haole
"Eric DeVine is a master luthier, but an equally impressive artist. After learning ki ho'alu (Hawaiian slack-key guitar technique) from Ozzie Kotani, I wanted a unique guitar with the tone to bring out the best from a finger-style technique. To say that he delivered is an understatement. Eric first provided sage advice regarding tone woods, and made suggestions for potential in-lays. The result was a beautiful guitar w/brazilian rosewood back and sides, redwood top, gorgeous vine inlays and volume and tone that nearly brought me to tears when I first played it. Its characteristics far outshine other high-end production guitars, and I can't wait to get home to play it each and every day. On a separate note, a local luthier who has worked on hundreds of high-end guitars, upon examining/playing the guitar, couldn't stop praising the quality of construction. Bottom line: you can't go wrong with having Eric build you an instrument. You can check it out on YouTube at slackkeyhaole. Thanks, buddy!"
Paul Heumiller
"This one reaches the soul, it's voice is magical without any exaggeration. For starters it's far louder than most small body guitars, and richer and fuller as well. The treble are the kind you are happy to hear all night long, deep and mellow like a well-played woodwind. The basses are big and warm. On top of all this, there's the incredibly beauty and grace the inlays add. This is one of the prettiest rosettes I've seen. I assure you I'll play this one a lot while it's here.... "
Jack Johnson
---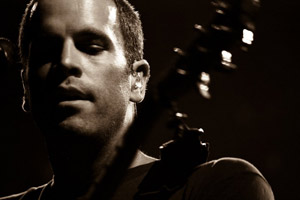 Jack Johnson plays a curly koa jumbo DeVine guitar with an Engelmann spruce top. His guitar also features a maple back strip binding and other highlights. The pickup is an active element from LR Baggs.
"Usually a guitar that looks this pretty doesn't sound right. But not only does it have a great tone, out of all of my guitars it has the best intonation."
- Jack Johnson
Eddie Vedder
---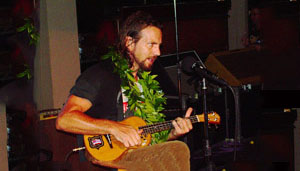 Eddie Vedder of Pearl Jam plays a Kasha style tenor ukulele with a cedar top and quilted maple back and sides. Eddie's ukuleles also has curly koa binding and a rope purfling. The pickup in his uke is an LR Baggs element pickup. You can see Eddie Vedder playing his uke in concert on our "Listen" page.
Mike McCready
---
Mike McCready of Pearl Jam took home a matching pair of mastergrade koa jumbo guitars. These two twin Jumbo acoustic guitars were a sentimental purchase for Mike. The first was for himself and it's sibling was for his friend, band mate and best man at his upcoming wedding, Stone Gossard. Both guitars where made from matching koa with curly maple binding and LR Baggs pickups.
Kimo Hussey
---
Ukulele master, Kimo Hussey with a tenor and two 6-string baritones, laying down some tracks for the new Dennis Pavao album. (He loves the 100 year cedar tops!)
Karen Be
---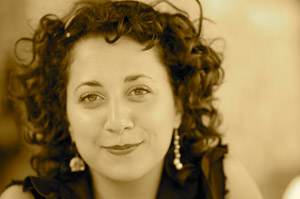 Karen Be is another Maui local that will soon be taking over the world with her sweet sultry voice.
Micah Wolf
---
Recording artist Micah Wolf has a Koa jumbo steelstring that he is using on his current project.
Gary Ralph
---
"I am absolutely thrilled in every way with the instrument that you built for me. Of course, it is visually stunning. But the sound quality is also amazing. I love the tone, and the intonation is so spot on that all of my other instruments sound perpetually out of tune. I love the side port. I did an open mic performance on Saturday, and the side port was very helpful in modulating my tone. It sort of functions like a stage monitor. The playability is just extraordinary, again, the best I have experienced by far. I also love the aliveness of the instrument, even the way the neck vibrates when I play. So cool. I am so grateful to you for the care that you put into the design and craftsmanship of this instrument. I'm also grateful to Kimo Hussey for insisting that I really must own one of your Ukuleles. I'm sure that you know he's a huge fan of your work."