Guitar and ukulele design
Custom guitar design
I don't think there is anything quite as magical as watching a musician truly connect with an instrument that was made just for them.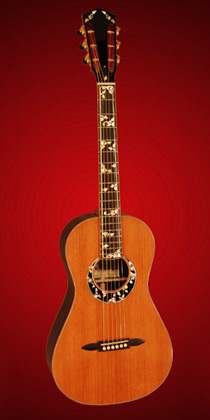 Guitar design from luthier Eric DeVine.
Tonerite
Upon request, your DeVine guitar or ukulele is put through a break in period of 3 to 4 days. The "Tonerite" is a machine that can rapidly break in an instrument the same way years of playing will do. The Tonerite simply fits between the strings of the instrument and slides down close to the bridge. Once in place, the Tonrite can be adjusted to enhance specific or all areas of the tonal spectrum of your guitar or ukulele. DeVine Guitars and Ukulele is an authorized Tonerite dealer and can include a Tonerite with your custom guitar or ukulele.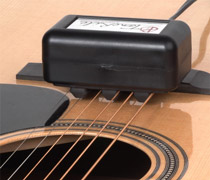 Kasha bracing and hand made ukuleles.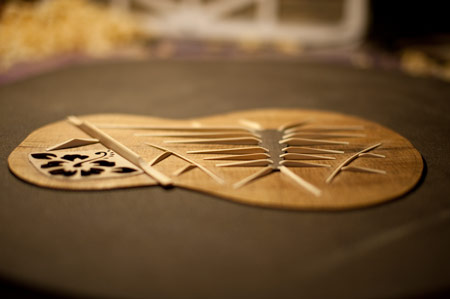 I have been using the Kasha bracing system since 2002, when I started incorporating the design into the construction of a nylon string guitar. The sound difference between this models and other guitars I had built was amazing; lower lows, a very even rounded tone, and great clarity. Perfect for slack key playing. I was sold!
About six months after my first Kasha guitar, I found plans for a Kasha ukulele from some Hanalima. After finishing that first tenor ukulele, I found the same results; the tone, volume and clarity were unbelievable.
The basic idea behind the Kasha bracing system is to eliminate braces in exchange for tone bars. A sound board should be divided into two sides, treble and bass. The treble side utilizes shorter sound bars which can vibrate faster as the higher tones do, while the bass side contains longer tone bars that vibrate slower, just as lower tones do.

Moving the sound hole to the top right corner of the sound board also helps to free up the sound board by eliminating the need for a cross brace. The second sound hole on the side of the upper bout also helps to spread the sound around.
Flamenco guitar design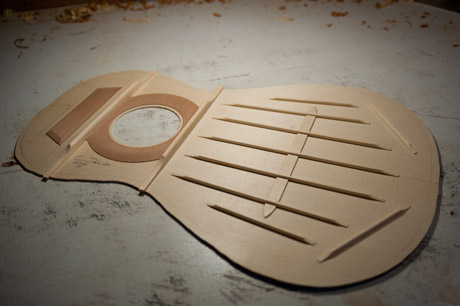 Flamenco guitar design has been evolving for many, many years with each builder wanting to add their own personal touch. DeVine Guitars has produced a Flamenco guitar that will turn the heads of even the most seasoned guitar player. The DeVine Flamenco is a small bodied, extremely percussive guitar.