Custom Inlay
There are many different rosette inlay to choose from for your custom guitar or ukulele. Here is a double sound hole guitar with Nouveau rosette inlay.
Custom inlay work can also be done in other spots on your instrument. Here is a ukulele inlay of Mighty Mouse with sandelwood, bloodwood, maple, ebony and mother of pearl.
Fretboards and
Other Extras
Snakewood fretboards
Also called Letterwood and Leopardwood, Snakewood is dark red to reddish brown with irregular black spots or stripes. Fine textured and highly lustrous. Very hard and heavy, it takes a beautiful finish and is very rare. Snakewood also has been know to improve the playability and tone of instruments because of it's density and ability to carry vibration.
Brazilian Rosewood Fretboards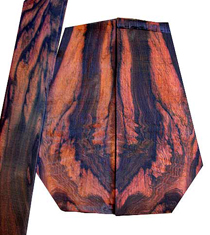 This is old stock & old grown genuine dalbergia nigra material that was milled in the 60's & received these from a retired supplier a while ago. these particular fretboard blanks are "quarter sawn", chocolate orange color tone w/ dark chocolate grain streaks, silky smooth hand, excellent growth rings with excellent tap tone.
Ziricote Fretboards
Ziricote is another timber we get from the Yucatan Peninsula of Mexico. It is a lovely wood with a very pronounced ray fleck on radial surfaces producing a landscape effect much like quality Brazilian Rosewood or jasper.
Custom Fretboard Inlay