Hawaii : Home of DeVine Guitars and Ukuleles
About Hawaii
Discover why the six Islands of Aloha are home to treasures unlike any other on earth: The dramatic cliffs of the Napali Coast on Kauai. The vibrant shores of Waikiki Beach on Oahu. The miles of white sands of Papohaku Beach on Molokai. The dolphin friendly waters of Hulopoe Bay on Lanai. The summit of Haleakala on Maui. The primal energy of Hawaii Volcanoes National Park on Hawaii's Big Island. It won't be easy choosing which island to visit on your first trip to Hawaii, but you'll find there are no wrong answers.
You'll likely begin your adventure at Honolulu International Airport (HNL) on Oahu. This is Hawaii's major airport, serving as the entry point for most of Hawaii's visitors. All major domestic carriers and many international carriers serve Oahu, so you can get here from just about anywhere. There are also direct flights from the U.S. mainland to Maui, Kauai, and Hawaii's Big Island, but for the most part, you may need to connect through Oahu to get to the neighbor islands including Lanai and Molokai.
Then breathe deep. Smell the fresh plumeria in the air. Visit the historic landmarks of Hawaii and learn about the rich culture of the islands. Explore off-the-beaten-path destinations, from hidden beaches to small towns that you won't find on a postcard. Learn to surf, snorkel or kayak and earn your Hawaii suntan. And don't forget to go to an authentic luau where you can get a taste of Hawaiian culture and watch the art of the hula. You'll find the itineraries on Hawaii are endless. From romantic escapades to family fun; from whale watching to walking on a volcano; you can do it all or you can simply sit back and do nothing. Explore Hawaii's six unique islands and you're sure to find your first trip to Hawaii won't be your last. Learn more about things to do, activities and shopping in Hawaii.
Maui's History
Legends say the demigod Maui pulled the Hawaiian Islands from the sea and lassoed the sun atop Haleakala, the island's highest peak. The island of Maui was named after this mythological being, perhaps because the shape of the island is said to resemble his head and body.
King Piilani was the first ruler to unite all of Maui under a single family of alii (royalty) in the early 15th century. In 1790, King Kamehameha I defeated Kahekili, Maui's last king, after a fierce battle in the iconic Iao Valley. Kamehameha took control of Maui and made Lahaina the new capital of the unified Hawaiian Kingdom. For nearly five decades, Lahaina served as the center of government for Hawaii. Simultaneously, the town experienced a surge in its whaling industry. At the height of the whaling era (1840-1865) as many as 500 ships anchored in Lahaina's port.
Maui's first sugar mill began operations in 1828. As the sugar industry in the islands grew, an influx of plantation workers from China, Japan, Puerto Rico, Korea, the Philippines, Portugal and Europe arrived in Hawaii. These immigrants became the foundation of the multi-ethnic culture of Hawaii today. You can experience these influences at places like the Lahaina Jodo Mission and in the fusion of flavors found in Hawaii Regional Cuisine.
The Lahaina Historic Trail and other notable attractions allow you to explore Maui's rich past today, adding a fascinating new dimension to your visit.
About Maui
The thought of lying on sun soaked beaches regularly named "the best" by travel magazines is enough to make any of your friends jealous. But once you arrive on Maui, you'll see there's so much more for them to envy.
Most flights arrive at Maui's main airport, Kahului Airport (OGG). Many airlines fly direct to Maui while others include Maui as a stopover. You'll find resorts and hotels of every size and budget in Kapalua, Kaanapali, Lahaina, Kihei, Makena and Wailea on the sunny western coast as well as one resort in Hana in East Maui. It's about a 45-minute drive from Kahului Airport to Lahaina.
Once you've settled in you'll want to explore Maui's sweeping canvas of attractions. The western, or leeward side, is the drier side of the island and features Maui's world-famous beaches including the beautiful Kaanapali Beach, home to a nightly sunset cliff diving ceremony. West Maui is also home to historic Lahaina, where you can find great shopping, dining and entertainment.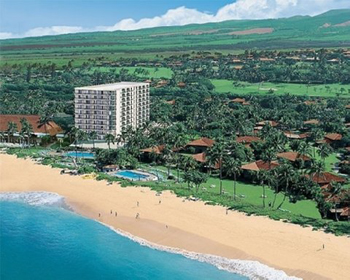 The eastern, or windward side, of the island is the wetter side of the island, home to the lush Iao Valley and the scenic road to Hana. The cool, elevated slopes of Haleakala are where you can find the farms and gardens of Upcountry Maui and the soaring summit of Haleakala National Park. There is so much to see and do on Maui it's best to plan ahead. Just don't forget to send your friends a postcard.