Eddie Vedder playing DeVine Ukuleles
Eddie Vedder's new solo album is out
Eddie Vedder has said this solo outing began with no intention of the music going public, and there's no reason to doubt him. A solo ukulele record from the leader of Pearl Jam, one of the great alt-rock bands of the last quarter century, doesn't exactly brim with marketing potential.
The narrow musical scope carries with it both freedom and isolation, qualities particularly suited to Vedder's temperament. The nakedness of the sonic palette ? this is truly folk chamber music ? also leaves him emotionally exposed, lending considerable power to songs of separation ("Sleeping by Myself"), alienation ("Can't Keep"), romantic yearning ("Longing to Belong") and vulnerability ("Broken Heart," "Once in a While"). The instrument's intrinsic sweetness seems to head off any inclination to succumb to despair, and contrasts evocatively with his sandpapery, quavery vocals.
He complements a dozen originals with outside material mostly from the ukulele's heyday in the early 20th century ("Dream a Little Dream of Me," "Tonight You Belong to Me," "More Than You Know"), helping his own songs cast a longer shadow. Who knows? Perhaps this experiment will inspire him to take on that last bastion of uncharted rock-star territory: Accordion Anthems.
-L.A. Times
The layed back side of Eddie Vedder
In an interview with TheVine last year, Amanda Palmer said of the ukulele: "It's kind of a magical-trick instrument, because it's so easy to play but it's so incredibly charming. Just the sound of it makes people smile." Which may or may not be something Pearl Jam's Eddie Vedder subscribes to, but here he comes with an entire album based on the plucky instrument?his first ever stand alone solo album under his own name.
In his hands the ukulele is a means of escaping the context of rock music as well as the folk connotations of acoustic guitar, coming closer to some purer expression. Directly informed by the instrument's simple charm, Vedder indulges in threadbare, lullaby-like ballads of devotion and surrender.
In his usual bristling warmth of voice, Vedder pens the album's originals closely in spirit with its five covers. Those are all pop standards or at least well-worn oldies, and all steeped in nostalgic, romantic purity. Of those, the perennial favourite 'Tonight You Belong to Me' and the rousing 'Sleepless Nights' feature vocals from Cat Power and The Swell Season's Glen Hansard, respectively. Aside from those cameos and a guest cellist on the single 'Longing to Belong', the album is simply Vedder's voice against the ukulele's gleaming twang. Thus the songs can't help but sound an awful lot alike. (A nagging problem at the man's solo show in Melbourne earlier in the year).
These are all nice enough, and Vedder includes informal touches like the phone ringing after 'Satellite', the botched outtake 'Hey Fahkah', the ocean sounds behind 'Light Today', and the fleeting instrumental 'Waving Palms'. But what Ukulele Songs could have really used is more contrast: Vedder matches the ukulele's innate blend of sadness and sweetness rather than testing more complex lyrics against it. On the tightly wound opener 'Can't Keep', he lets loose a whoop, howl, and falsetto sigh that suggest his vocals might later break out all the more. Instead he sticks to a comfortable croon, only approaching that same abandon once more on 'You're True'.
That said, Vedder pours himself into these homespun love songs. Away from the din of his band, he seems to climb to some private perch, look skyward, and just sing.
-Doug Wallen
The first video from Eddie Vedder's new album "Ukulele Songs"
The video for "Longing to Belong," the first single from Eddie Vedder's new solo album Ukulele Songs, is just as simple and low-key as the song itself. Abstracted footage of the ocean and Hawaiian palm trees are cut with images of Vedder, decked out in an uncharacteristically fancy suit, strumming his ukulele and looking very pensive. The clip complements the sound of Vedder's lovelorn ballad without distracting from its gentle beauty.
-Rolling Stone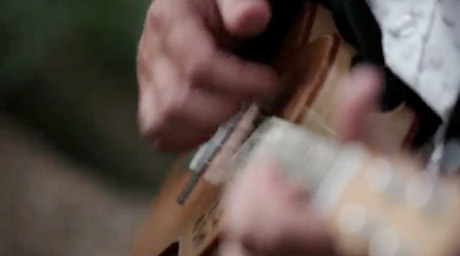 The debut track from Eddie Vedder's first proper solo album, Ukulele Songs, has arrived, and it's a winner. The concept of an all-ukulele album from one of rock's most ferocious vocalists has had many scratching their heads, but "Longing To Belong" should help assuage their fears.
First, the uke sounds great ? this is not your Hawaiian gift shop model. Second, there's a nice bowed stringed instrument following along. Also, it's a rather touching love song, and feels more tightly focused lyrically than much of Pearl Jam's modern output. "I may be dreaming, but I'm longing to belong to you," sings Vedder, hitting some interesting chords along the way.
"Longing To Belong" would probably be the highlight of any PJ record post-No Code. Let's hope the rest of the tracks are this engaging.
-American Songwriter