Custom Ukulele from DeVine Guitars and Ukuleles
Which custom ukulele is right for you?
There is a custom DeVine Ukulele for every style of playing. Whether you are looking for a solo jazz ukulele or a 6-string Kasha baritone uke to fill your life with music, we can custom make you the ukulele of your dreams.
If you are not quite sure what style or what tonewoods will suit your playing style best, please contact us and we would be more than happy to offer you some suggestions.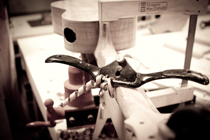 The Kasha bracing system
The Kasha bracing system uses 24 different tone bars to stabilize the top and spread out the vibration from the strings. Although it is much more complex than a traditional ukulele top, the Kasha top provides a more open sound with a bigger range of Frequency.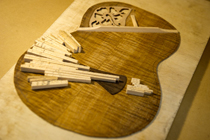 Customizing your ukulele
Customizing your ukulele with tasteful inlay is a way to trigger all of the senses.
Choosing your ukulele woods
Choosing your own ukulele wood is a very personal thing. At DeVine Guitars and Ukulele we love to let our customers pick out the exact koa or other beautiful ukulele tonewood they want. This helps to involve the customer and make the building process a much more intimate experience.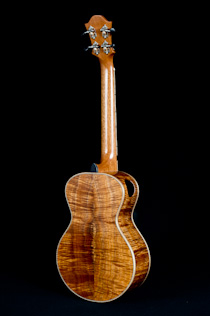 Kimo Hussey
Kimo Hussey explaining some of the differences between baritone and tenor ukuleles.
Which model is right for you?
The New Tenitone Ukulele
The Tenitone. A perfect balance between Tenor and Baritone. A longer scale, a larger body, a bigger sound, still GCEA. For years we have searched for a bigger sound from the ukulele without departing from the classic tuning that makes the ukulele what it is, and the time has come. The Tenitone is everything we have been looking for. More volume, more sustain, more power, more possibilities, same classic tuning. Here is Kimo Hussey demonstrating the new Tenitone.
-Pictured below-
The Muse Ukulele
Named for it's ability to inspire, the Muse ukulele is sure to bring out your inner artist. It's tighter waist and sloping shoulders give it a look that suggests precision and accuracy. The Muse model ukulele is based off of the same bracing system as the Kasha ukulele but designed for a more precise style of playing. The Muse offers a slightly more detailed sound. You will tend to hear the strings more independently of each other. This makes it just slightly better for finder picking or classical styles of playing. If you were to compare it to a guitar, it would be the Jumbo or Grand Auditorium of the uke would.
-Pictured below-